By Kelly Bridgewater
The year is 1938, and as Hitler's troops sweep into Vienna, Austrian Max Dornbach promises to help his Jewish friends hide their most valuable possessions from the Nazis, smuggling them to his family's summer estate near the picturesque village of Hallstatt. He enlists the help of Annika Knopf, his childhood friend and the caretaker's daughter, who is eager to help the man she's loved her entire life. But when Max also brings Luzia Weiss, a young Jewish woman, to hide at the castle, it complicates Annika's feelings and puts their entire plan―even their very lives―in jeopardy. Especially when the Nazis come to scour the estate and find both Luzia and the treasure gone.

Eighty years later, Callie Randall is mostly content with her quiet life, running a bookstore with her sister and reaching out into the world through her blog. Then she finds a cryptic list in an old edition of Bambi that connects her to Annika's story . . . and maybe to the long-buried story of a dear friend. As she digs into the past, Callie must risk venturing outside the safe world she's built for a chance at answers, adventure, and maybe even new love.
From Amazon
My Thoughts:
Time-slip novels are becoming a popular way to combine a historical romance story with a contemporary timeline. Authors like Kristy Cambron, Rachel Hauck, Heidi Chiavaroli , and Melanie Dobson have used them in their writing. I do enjoy Dobson's stories because they take place during World War II and the present. As a fan of the horrors of World War II, I have come to adore these stories Dobson crafts. Her newest book, Hidden Among the Stars, is no exception.
I love the plot. A treasure hunt in a castle by a lake. How interesting. The past timeline captures my attention and doesn't let go. I love learning about Annika, Luzi, and Max as the story unfolds, showing their troubles and their dilemma. I loved each of the characters and enjoyed spending time with them as they moved through the issues arising during the Nazi's reign of terror. As for the contemporary timeline, I really love how Dobson introduces Callie and Brie with the bookstore. It reached out to my book-loving heart and made me want to visit a bookstore with a castle in the back. What would be better than to slide down a slide in a bookstore? I want to visit this bookstore in Ohio. The present story didn't disappoint either. It flowed nicely, and I loved following Callie as she hunts for answers from her copy of Bambi.
The romance in the past is a love triangle. Max loves someone. Annika loves someone. But does Luzi love someone? Have to read to find out. The romance wasn't overdone. It moved at a natural pace, even though there were plenty of roadblocks in the way. The present day romance is not too forceful either. I do think the ending was a little rushed for Callie and a certain someone, but I bought it because the story was leaning toward that way anyway.
Overall, Hidden Among the Stars by Melanie Dobson is a nicely woven together plot featuring a treasure hunt from World War II that affects the modern day timeline. The end result is a truly unforgettable story populated with heroic characters, a love of literature, and the God who holds the key to true beauty.
I believe fans of Dobson's other works, Sarah Sundin, Kristy Cambron, and Susan Anne Mason would love spending time lost in this story. I know I sure did.
I received a complimentary copy of Hidden Among the Stars by Melanie Dobson from Tyndale Publishing, but the opinions stated are all my own.
My Rating: 5 out of 5 stars
Melanie Dobson's Author Bio: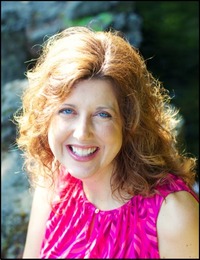 From Goodreads.com
Writing fiction is Melanie Dobson's excuse to explore abandoned houses, travel to unique places, and spend hours reading old books and journals. The award-winning author of twenty novels, Melanie enjoys stitching together both time-slip and historical stories including Catching the Wind, Enchanted Isle, Beneath a Golden Veil, and the Legacy of Love novels. Chateau of Secrets received a Carol Award for historical fiction, Catching the Wind's audiobook won the 2018 Audie for Inspirational Novel, and The Black Cloister was ForeWord's Book of the Year for Religious Fiction. Her next time-slip novel, Hidden Among the Stars, comes out in September.

Melanie and her husband, Jon, have two daughters. After moving numerous times with Jon's work, the Dobson family has finally settled near Portland, Oregon, and they love to travel and hike in both the mountains and the cliffs above the Pacific. When Melanie isn't writing, she enjoys exploring ghost towns and dusty back roads, dancing, and reading stories with her girls.(From Amazon)
Connect with Melanie Dobson:
Where to purchase Hidden Among the Stars: